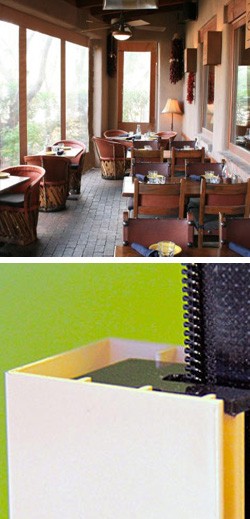 Fortress High Wind Zipper Track: Clear Vinyl with Solid Borders.
Here's the deal. It's great to be able to sit outside and enjoy the fresh outdoors. But Mother Nature can turn vicious in the blink of an eye. Whether it's your home or a commercial establishment, when high winds blow or the rain starts pelting you can still maintain that full, undistorted view without having to run inside.
How?
The Fortress High Wind Zipper Track with Clear Vinyl
It's the strongest retractable outdoor shade on the market. Bottom line: it can withstand up to 50 mph winds. It's perfect for enclosing a patio, deck, pergola, porch, lanai, gazebo covered roof area, waterfront home, or even an outdoor restaurant against the elements. What's great about clear vinyl is that if it's too cold to sit out, it allows the warm of the sun to fully penetrate your interior space. At night you can add a safe heater, stay toasty warm and stare out to the stars.
What's the Powerful Difference?
What differentiates these from the standard outdoor clear vinyl shades with side rails is that the fabric is actually constructed with heavy duty zippers on the sides of solid borders. These zippers lock into slotted powder coated aluminum side rails so the wind cannot blow the shade out of them. The shade glides up and down smoothly and can be stopped at any position. At the top, the matching powder coated aluminum housing contains interior brushes on both ends that clean the fabric as it feeds into it. The bottom bar of the shade is specially fitted with a brush that ensures a flush fit to the ground.
If you're a restaurant owner, or a merchant of any kind that highlights a portion of your business outdoors, you need to ensure your customers that you're prepared for any type of weather. Don't bank on the sun to shine perfectly each and every day. If that's what you're doing, you're losing money. Simple as that.
If you're a contractor that makes your business on weddings and other special events that are usually planned months – sometimes years – in advance, and are often arranged as an outdoor engagement, you want to win the trust of your clients and guarantee them that their "day" will go off without a hitch. If you don't have these shades as a piece of your working outdoor infrastructure, you're losing money, and are giving yourself unnecessary anxiety attacks.
And of course, if you're a general homeowner, you just want the peace of mind that comes from offering you, your guests, and your outdoor furniture/décor supreme protection, and ideal weather control.
The Fortress High Wind Zipper Track at a glance:
Maximum dimensions: 18' w x 12' h
Motorized or Manually Operated with a crank
Scratch resistant 20 m. double polished clear vinyl with UV inhibitors
Can withstand temperatures down to minus 20 degrees without cracking
Our Strata Glass Self-Extinguishing clear vinyl is the only one approved as an acceptably safe enclosure material
Solid borders come in different colors
Insulates and creates a strong barrier against the elements with clear vision out
Want to learn more? Call us: 866-230 4700 or visit this page of our website.
Take that, Mother Nature. Ready to rule? We're here to help.