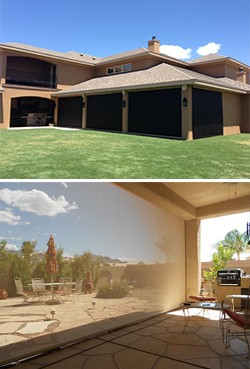 When it comes to the most ruggedly constructed Outdoor retractable shade system on the market, there is one name that reigns supreme. That name?
The Fortress™ High Wind Zipper Track
Able to withstand up to 50 mph winds, this shade wins the frontline battle of shielding your property from the elements. The Fortress™ High Wind Zipper Track is indeed the top tiered difference maker when it comes to forcibly, and securely protecting your surrounding livable space.
At North Solar Screen, we offer the Fortress™ construction across all three lines of our Outdoor Shade suite: Transparent Solar Shades, Blackout Total Privacy Shades, and Clear Vinyl Shades. They are custom made up to 20 feet wide by 16 feet tall. They are ideal for totally enclosing a patio, pergola or covered roof area against high winds, driving rain, insects, critters and dirt. They are also ideal for waterfront vacation homes where high winds and the elements may be an issue. You no longer have to move heavy outdoor furniture inside. You can leave for a season feeling completely secure. And that is freedom.
Here's the breakdown:
All of our Fortress™ shade solutions are outfitted with the Fortress™ Zipper Track System. The deluxe all-weather outdoor shade fabric is actually "framed out" with sturdy, non-rusting powder coated extruded aluminum parts. But this system is different from the standard outdoor shade with side rails and housing. With the Fortress™ Zipper Track System, the fabric is actually constructed with heavy-duty zippers on the sides. These zippers lock into slotted powder coated aluminum side rails so the wind cannot blow the shade out of them. The shade glides up and down smoothly and can be stopped at any position. The powder coated aluminum housing at the top is also different than the standard fare. It is specially fitted with interior brushes on both ends that clean the fabric as it feeds into it. All aluminum parts come in a choice of six matching colors.  The bottom weight bar is fitted with a brush that ensures a flush fit to the ground.
Now for the three main outdoor shade lines we have available at North Solar Screen that include our Fortress™ solutions.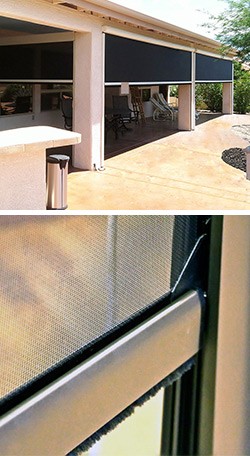 Transparent Solar Shades:
Make your outdoor living spaces more livable by blocking the sun's heat, glare, and UV rays, while managing ventilation and providing full outward vision.
Several fabric choices are available. Extra wide all weather solar shades come in three densities: 10% openness which blocks 90% of the light and heat, or 5% openness which block 95% and 3% openness which blocks. 97%. Darker colors give sharper outward visibility and better glare reduction, while lighter colors provide more natural light.
Blackout Total Privacy Shades:
Day and night, block out the sun, wind, and neighbors' wandering eyes with this high performance outdoor shade fabric.
Soltis fabrics prevent any detectable transmission of visible light, infrared or ultraviolet rays resulting in a substantial reduction in air conditioning costs. These shades are highly resistant to various weather conditions and can support temperatures ranging from -86ºF to 158ºF. Soltis will not stretch or lose its shape under heavy loads. Exterior facing colors are in putty, brown and white, interior is gray. The quality of polymers used in the manufacture of these materials ensures high color-fastness. Dirt does not stick to them due to their smooth and even surface structure.
Allow the warmth of the sun to fully penetrate your interior space, yet maintain a transparent barrier against the elements. Clear vinyl panels have solid border material on the sides that come in a choice of colors. The clear vinyl panels may be oriented vertically or horizontally.
The vinyl is 20 mil Marine Grade with UV inhibitors and double polished to avoid cling. It can also withstand cold -20° F temperatures.
In conclusion, we'll end this the same way we started it.
When it comes to Outdoor Shades, there is one name that reigns supreme: The Fortress™ High Wind Zipper Track – Because when high winds blow, you need more than a shade. You need the Fortress™.
Call us today at North Solar Screen and rule the wind.