Economical PVC Free Serenity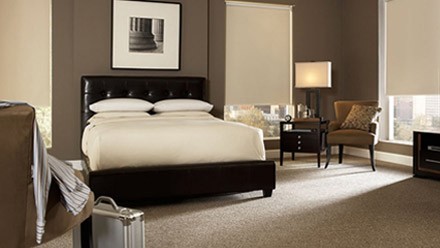 Max: 114"w x 144"t (no seams)
Exterior side is white for heat reduction
View Shade
I've had a sleep disorder for years and I can't thank you enough for the black out shades I've installed in my bedroom. FINALLY, I've been getting an excellent nights rest and am not "up with the sun" in the morning. Bless you!
These custom blackout, light blocking shades reject 100% of visible light and UV rays. Blackout room darkening shades are great for baby nurseries, bedrooms and home theaters and provide full privacy from the outside.
Room darkening shades can be purchased in many different styles and colors, with fully motorized blackout shade options available as well as crank operation, cordless shade products. We will send you free samples to make sure you find the right blackout shade for your home or business.
Details on our Blackout Roller Shades Product Line:
---
Economical PVC Free Serenity
Economical PVC-Free Light Blocking Shades
Perfect for large bedrooms, home theaters, examining rooms, or wherever dark or total privacy is needed. Available in wider sizes than our other black out roller shades, they'll also save you money by keeping heat out in the summer and in during the winter. Our most economical blackout shade.
Maximum Dimensions:
108"w x 144"h (114"w x 120"h and 120"w x 102"h railroaded)
Chain operated, Cordless,  or Motorized
View Product Page
---
PVC Free Supreme
PVC-Free Blackout Shades
To stylishly turn day into night, these textured, opaque polyester shades come in a range of decorator colors. Providing excellent insulation they're also low-allergen, and resist both bacteria and mold.
Maximum dimensions:
92" w x 144" h
Chain operated, Cordless, or Motorized
View Product Page
---
Modular Light Sealed
Seals out all side and back light.
Our total light sealed systems enhance energy savings because they seal out all side light and drafts on the sides, bottom and top of a shade. Ideal for oversized windows, can be inside or outside mounted.
Maximum Dimensions:
144"w x 134"h
Chain operated or motorized
View Product Page
---
Affordable Vinyl Fiberglass
Blackout Shades for Room Darkening / Commercial Use Shades
One of our most affordable light-blocking option is durable and well suited for commercial, industrial, school and residential use. While the shade keeps the light out, the shade will also keep your heat in. Available in 72" widths in all colors; wider shades may have a seam.
Maximum dimensions: 144"w x 134"h.
View Product Page