Baby Grande Blackout Heavy-Duty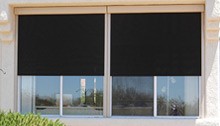 Max Dimensions: 14 ft. w x 12 ft. h
Wind Load: Up to 35 mph
Crank operated or motorized
View Shade
Last summer when the temp was 100 plus, we measured the temperature of the glass of our slider. After pulling the transparent solar shade and measuring again, it had dropped 30°. We love this shade. It's significantly lowered the room temp.
The comments haven't stopped on our new cellular skylight shade! the coffee color matches our ceiling perfectly, our room is much cooler now. Thanks to the NSS staff for there thorough assistance. Your product and staff now have a great reference.
It's time to rule the sun, completely. Our outdoor blackout shades provide the ultimate solution for anyone that needs privacy or protection from the heat and weather conditions. These shades will block out sunlight as well as help to keep rain and wind from damaging your open outdoor area.
Built to stand up to the elements, North Solar Screen's selection of blackout privacy shades are capable of withstanding everything from sub-zero temperatures to sizzling heat.
Details on our Blackout Total Privacy Shades Product Line:
---
Baby Grande Blackout Heavy-Duty
Heavy Duty Outdoor Blackout Shades
Baby Grande Blackout Shades are made with the same heavy duty construction as the Grande shades but because they are designed for smaller areas they are less expensive. By preventing any detectable transmission of visible light, infrared or UV rays these high performance crank operated or motorized shades can also substantially reduce energy costs. Maximum wind load up to 35 MPH.
Maximum Dimensions:
Exposed Roll: 14' w x 12'h (168"w x 144"h)
With Housing Box: 14′w x 7'h (168"w x 84"h)
Upgrade to Grande Blackout for wider or taller shades.
Manual or motorized.
View Product Page
---
Grande Blackout Heavy-Duty
For large decks and outside living areas, Grande Blackout Heavy-Duty Shades deliver ease and comfort, managing widths of up to 20', heights up to 16', and withstanding winds up to 35 MPH. Manual or motorized, these outdoor blackout shades completely block out the sun, resulting in a substantial reduction in air conditioning costs.
Maximum Dimensions:
Exposed Roll: 20'w x 15'h (240"w x 180"h)
With Housing Box: 20'w x 12'h (240"w x 144"h)
Manual or Motorized
View Product Page
---
Fortress Blackout
Outdoor Shades For Heavy Winds
The Fortress™ Track System is the strongest retractable shade available against the elements, critters and insects.  Fully encloses for both day and night time privacy and withstands winds up to 50 mph.
Maximum Dimensions: 18'w x 12'h (216"w x 144"h) Crank operated or motorized.
View Product Page