Conserving Energy With Indoor Cellular Shades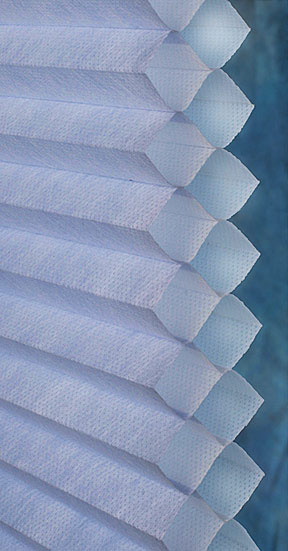 We're big fans of cellular (honeycomb) shades here at North Solar Screen. Not only are they decorative but they are one of the most insulating shades you can buy saving you a healthy amount on your monthly energy costs. How? Well, it's due to their technologically advanced design.
Depending upon which type you choose, cellular shades have either a single or double row of air pockets that trap the heat and cold in these cells. This forms a barrier against hot air transfer in the summer and cold air flow in the winter. To enhance summer heat rejection, all shades also have a white exterior facing side. Therefore you can match your décor using different decorative colors in every room while the outside looks uniform. Cellular shades are constructed from PVC Free polyester. Their crisp pleats rise to a small, unobtrusive stack and retain their shape. They provide a stout barrier against UV, glare, and drafts. Add an extra layer of energy savings with the addition of easy to install comfort tracks. These tracks fit inside the window frame and increase energy savings by 17%.
Cellular shades are available as light filtering and light blocking. The light blocking shades provide the most energy savings, hence the name "Insulator." They have two rows of foil lined cells which make them perfect for bedrooms, media rooms, nurseries or wherever you want to block out the light. These shades can also be made as light sealed systems called Slumber Shades with the addition of light blocking side tracks that again fit inside the window frame and boost energy savings by 17%.
Along with our Light Filtering Symphony, Insulator Blackout Symphony, and Slumber Light Sealed cellular shade offerings, where extremely happy to introduce our newest shade to our cellular line, the Light Filtering Linen Weave. This indoor shade elevates your home or office's windows to a whole new level of style with their an elegant ¾" single cell linen weave fabric. The single cell provides almost the same insulation as double cell shades as the cell is a little bigger. The linen weaves are a classic look featuring touchable, interwoven thread. They diffuse harsh glare into a pleasant light while adding a lovely decorative touch to your windows.
Lift Systems:
Along with the mounting options mentioned above, you also have a handful of ways you can implement the way you raise and lower your indoor cellular shade solutions. Check it out!
Standard – Most economical method. Two thin pull cords on the right or left with breakaway tassels for child safety. This lift system is best for shades up to 60" x 60". Included is an E-Z EQ leveling systems if the shade becomes inadvertently crooked. It's also available as top down / bottom up to allow visibility from the top (which, let's face it, is ideal for a bathroom setting).
Continuous Cord Loop – Moderately priced solution. Thick nylon cord with a plastic tension device, a heavy duty clutch for easier lifting, is smooth and quiet, and can handle larger shades up to 96" x 120". Like the standard lift system, it also includes the leveling bottom rail.
Deluxe Cordless Ultra – Sleek fingertip method to raise and lower your shades. This is a great solution that is the safest for households with children. It is, however, limited in size to 66" x 72". The top down / bottom up option is also available with a lift by plastic handles on both of the moving rails.
Motorization – Uses affordable battery operated radio frequency motors with remotes and reloadable battery wands. This is not available for use with the comfort track or slumber track systems.