Choose From 3 Power Options
Choose From 3 Power Options

Battery Wand
The 12 volt battery wand is wall or ceiling mounted utilizing white battery wand clips. This reloadable tube allows you to purchase and replace 8 alkaline batteries. Battery wand is 22" long.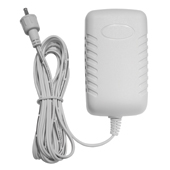 DC Power Supply
The DC Power Supply is an alternative to a battery wand. Each 12 volt power supply can power a single skylight shade. The DC power supply is white and comes with an 80"wire. Requires standard power outlet to operate shade. Dimensions are: 1  7/8" w x 3 ¼" l x 1 ¼" deep.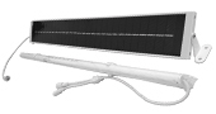 Solar Panel Recharge Option
Instead of disposable Alkaline batteries, harness the power of the sun to recharge batteries! The solar panel converts the sun's light into electrical energy providing a constant trickle charge for the rechargeable batteries Great for out of reach applications.  Dimensions of panel are: 20 5/8" x 2 ¾" x ½", Rechargeable battery wand is 22" long. Cord is a "y" split that measures approx 12″ from the solar panel to the connector, and 6″ from the motor to the connector.
---
View More: Outdoor Shades