Motorization (Indoor)
SOMFY Battery Operated Radio Motor
Somfy 12V Battery Operated motor with reloadable Battery wand. Operates with handheld or wall mounted single or multi channel remotes. Transformers available to save on batteries, as well as timers for the ultimate in convenience.
Powered by a Battery Wand that uses 8 Lithium Batteries. (Batteries are not rechargeable)
Multi channel remotes can operate up to 100 shades. The last button opens and closes all simultaneously.
---
110V Plug In Motor With Radio Remote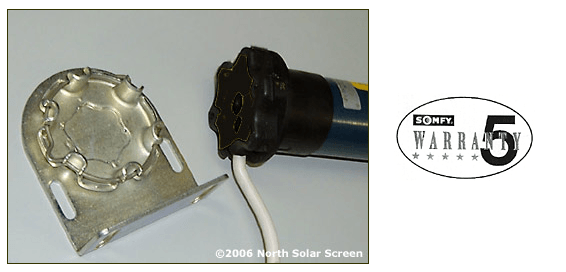 Motor plugs into Standard 110V Outlet, shipped with 6 feet of wire and a plug, special order longer wire.
(Do not shorten power cables to less than 42″ because the antenna is in the cable and the motor will not work if the antenna is cut.)
Motor is inside shade roller, on right or left your choice, only power cord sticks out.
Each shade is controlled by a hand held remote or wireless wall switch.
Control single or multiple shades by pressing a button, shade can be set to stop at a mid point or run to the limit stops
Motors use about 1.5 amps, remote range 100 ft.
To hardwire to a junction box install a shut off switch for each motor so you can disconnect each motor from power source to program.
View More: Outdoor Shades