Economical Crystal View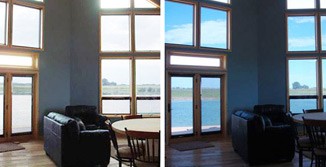 Provide daytime privacy with full vision out to the street. Rooms stay bright, they also provide draft control.
View Shade
The shades arrived Thursday and were installed today. They look great! Moreover, they work exactly as expected.
If you have windows that receive consistent sun exposure, you should consider solar film shades to reduce glare and block hazardous UV rays. These thermal film shades are perfect for year round use as they will keep rooms warmer in cold weather and cooler in hot weather.
Made in different specifications, these film shades can be utilized for storefront windows, industrial applications, and residential window treatments. Protect property from fading and sun damage by installing thermal film shades in areas that face the sun's blistering glare.
Details on our Film Shades Product Line:
---
Economical Crystal View
Heat, Glare Control and Fade Reducing Film Shades
These economical shades not only keep out solar heat and glare they also stop UV and its fading effects on interior furnishings. In winter they keep rooms warmer. See more clearly, stay more comfortable and save on energy bills all year.
Recommended by Natural Home Magazine
Maximum Dimensions:
144" w x 144" h.
Chain operated, spring tension, or Motorized
View Product Page
---
Storefront Shades
Fade Protection With Full Visibility
Made specifically for retailers who want to protect their merchandize and interior from bleaching and fading, these shaded are not designed for glare or heat reduction.
The only UV blocking shade that allows for both inward and outward visibility.
Maximum dimensions:
144″ w x 144″ h.
Chain operated, spring tension, or motorized
View Product Page
---
Industrial Strength
High Performance Protection from Intense Glare
These dark smoke shades provide protection to counter blinding glare, UV rays and heat. From control towers to tugboats to computer rooms, anywhere harsh glare presents an issue for professionals, these are the shades of choice. Details are vivid. Colors are true. Industrial Strength Shades are available with spring tension, clutch chain or motors.
Maximum dimensions:
144″ w x 134″ h.
Chain operated, spring tension, or motorized
View Product Page