Indoor
Transparent 
Solar Shades
Custom manufactured to your specifications, woven transparent solar shades cut glare, reduce fading from UV rays and diminish infrared heat gain. They provide outward visibility with daytime privacy. Different densities allow you to control the amount of sun protection. Free shipping on shades under 98" wide.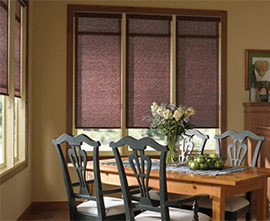 Textured yarns with traditional patterns
White gives best heat rejection
Reduces UV 90-97% depending on density
  Free Shipping
Max Dimensions: 96″w x 144″h
  10% off sale
We Care About Your Project
Transparent interior shades provide a functional and decorative solution to the environment in your home. Enjoy your view, comfort and daytime privacy by reducing the sun's glare and heat, and protecting your  furniture, carpets, and artwork from fading. Customize your own with your choice of color and weave openness (which determine heat rejection and light diffusion). North Solar Screen will work with you to find the perfect  solar shades for your indoor needs.

DON BROWERS, NC
We love our new shade. It arrived in good order a few days ago and yesterday my wife and I installed it. It only took about three hours. (We probably could have done it faster but we worked slowly checking and double-checking and, even in some cases, triple-checking our measurements.) Your instructions and videos are very detailed and they made the whole project a breeze. From start to finish North Solar Screen's customer service was first rate.
Barb Killin, Flower Mound, TX
Just wanted to let you know that we love love love our solar screens!
We researched these solar screens for 3 months and talked extensively to six different companies but Your phone conversation with me was far more detailed and informative than any of the others. Your website is by far the most well organized and detailed than any we looked at.  The information on the website answered all the questions we had including the installation videos.  Your expertise and your website sealed the deal (and a great price).  We are impressed with the quality of the solar screens and motors… fantastic!! Thanks!
Roy Ringwood, Ceritas CA
We love our shades. Everything works terrific even though installed 10 months after delivery. The delivery was well protected, the quality is top notch, and they work great with the controllers.
Denny Jensen St. Charles, Idaho
We are more than thrilled with this investment and folks who come by are amazed by the massive size, the smooth and quiet operation and most of all the protection and comfort it offers us on the porch or in the home. Its so nice to be able to set at our dining room table and eat dinner without cupping our hands over our eyes to keep from going blind. Great Product that is well made and backed and supported by great people who help me overcome every challenge in resolving our issues on this house from heat and glare. I'm just dang impressed!!!!
Glenn Bath, Negaunee, MI
I wish to compliment your company, as I am very happy with the Baby Grande Solar shade I recently installed. The quality of the hardware and shade is excellent and the installation was straight forward. Now my wife and I can enjoy our west facing patio despite the sun beating down at times. It's nice to see a quality product still available! Keep up the good work!
Jon White, TN.
Thank you North Solar Screen!!! Our patio is usable in the afternoon now. Super easy to install and great customer service.
Judy W, Blacksburg, VA
Thanks so much for the great correspondence and holding our hand throughout the order process, we are extremely happy with the purchase.
Dan Weible, Point, TX
Thank you for the heavy duty sun shade.  It works great.  I have to say that was one of the best constructed items I've seen in a very long time.  The online instruction video was THE best I've ever seen.  It only took my wife and I a few hours to have it installed and working.  It was a pleasure dealing with everyone at North Solar Screen throughout the process.  You have a great team, and a fantastic product.
Eric Hornquist, TX
The 3% openness Baby Grande Shades were absolutely the right choice for the hot bright Texas sun. Thanks for a truly great product.
Woman owned and operated. Designing Energy Saving Shades since 1992