Clear Vinyl Outdoor Shades: Heavy-Duty Construction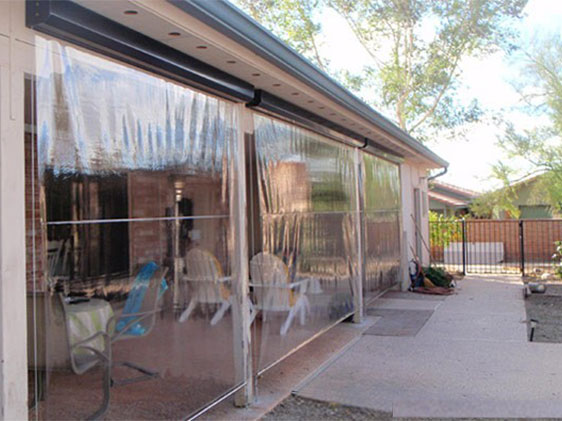 Choose North Solar Screen's Heavy-Duty Clear Vinyl Shades to create an outdoor living space protected from the weather and the elements.
Main benefits of our outdoor solar shades:
Perfect for homes, cafes, and restaurants.
Extend your outdoor living season.
Embrace the warmth of the sun while being protected from the weather.
Insulate from the cold air.
Crank operated or motorized.
Custom manufactured up to 20-feet wide.
Can withstand high wind loads depending upon construction.
What are clear vinyl shades?
Our clear vinyl shades allow the warmth of the sun to fully penetrate an interior space while creating a barrier against the elements. This makes them the perfect choice to insulate your outdoor space and extend your living area through the seasons. They are great either for residential or commercial use. Combined with safe, outdoor heaters, these shades make otherwise too chilly areas warm and cozy.
Heavy-Duty Construction Clear vinyl shades allow you to enjoy your patio, porch, gazebo, pergola or lanai, in the cold weather, or when it is just plain unpleasant outdoors. The virtually see-through material allows undistorted visibility, maintaining a comfortable outdoor feeling. It also provides a protected area for plants. Our vinyl is double polished with a glossy finish which prevents it from sticking to itself in the humidity. Stain and moisture resistant, it has passed the rigorous 200 hour UV and Weather Test for temperature, snow, and rain. In fact, our heavy duty clear vinyl shades can withstand temperatures down to 0°F without cracking.
Shades can be raised and lowered by a crank or they can be motor controlled with the touch of a button. Optional timers and sun/wind sensors are also available to automatically raise and lower your shades. Every shade is custom manufactured to exacting standards with a variety of options that are designed fit to your needs.
North Solar Screen clear vinyl shades are constructed with superior components designed to last outdoors. They will not rust, corrode, or mold. Shades are mounted on heavy walled rollers to prevent sagging. The material is secured to the roller with a spline and sealed on the ends to prevent sliding. Sonic welding for larger dimensions ensures that shade seams will not come apart. To protect against the wind, at the bottom, a heavy duty chrome plated stainless steel weight bar rides up and down on a sturdy cable system. Side rails with extruded aluminum housing in 6 matching colors are also available. Every part of these shades has been engineered to exceed your needs for outdoor use.
Why choose North Solar Screen's Heavy-Duty Clear Vinyl Shades?
Clear vinyl is a versatile solution for many needs. Our customers choose this solution for their outdoor living spaces:
To extend outdoor living by blocking cold air and the elements.
To enjoy all the benefits of a clear barrier without the cost and work of building an enclosed space.
To protect against winds of varying force.
To ensure a perfect fit because they are custom manufactured.
To protect plants against the cold.
To be confident that their shades have been constructed to exacting standards with superior components built to last.
We make the perfect fit an easy job.
A shade or blind is a fairly simple concept, but the details of measurement, fabrication, and installation can seem complex. Depending on the environment and wind load you may need a heavier duty solution or a unique configuration to meet your space. Our highly-trained staff will advise you about different clear vinyl shade alternatives. We will guide you every step of the way, help simplify the details, and make the ordering process an easier one. Rely on the North Solar Screen team of experts, and enjoy outdoor living.
What are the alternatives?
If clear vinyl shades are not what you're looking for there are a lot of other choices. These range from transparent solar shade fabrics that stop heat, glare and fading, to total light-blocking for both daytime and night time privacy. North Solar Screen has a full line of both indoor and outdoor energy saving shades to fit your exact dimensions. All are built with superior components.
Contact North Solar Screen and let us show you how to Rule the Sun: Visit our website at northsolarscreen.com or call us at (866) 230–4700.