Indoor Solar Shades: Mixing Style with Function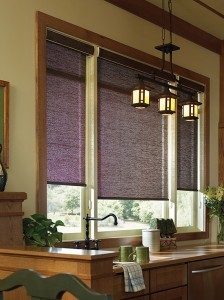 Let's talk about the interior of your home for a moment. Most folks try to integrate their unique styles into their personal spaces, which makes sense. One area that may be overlooked is your windows. Did you know that more heat and cold is lost through windows than any other part of the home? What are you doing to maintain your home's energy efficiency while simultaneously retaining some stylistic appeal?
Transparent solar shades maintain the open feeling of a room. They give full vision out while providing daytime privacy. They come in different densities that allow you to control the amount of light, heat, drafts, glare and UV protection. Solar shades have come a long way. There are now elegant styles that can enhance any décor. While considering your indoor shade options, keep in mind that they should be:
Functional and Appealing
We'd like to talk about two of our most stylish indoor solar shades that are sleek in appearance and, as the heading suggests, functional. Our Linen Look and Textured lines match both those categories. When looking for an indoor solar shade solution that's appealing, there's no need to compromise on practicality and beauty.
Our Linen Look indoor solar shades offer the following function based features:
They come in two different densities: 5% openness (95% dense) or 3% openness (97% dense) so you can control the amount of light.
Colors closest to white give 30% more heat rejection than dark colors.
Darker colors give sharper outward visibility and better glare reduction.
The shades are of superior strength and dimensional stability. They will not stretch, shrink, or twist. Shades always hang flat.
They're woven with fade resistant yarns; color life exceeds all commercial requirements.
The material used in the construction of the shades is antibacterial and non-toxic, rejecting mold, bacteria and dry rot. The fiberglass element is manufactured from all natural materials: quartz, sand, soda and lime.
Extreme temperatures do not affect them.
Super fine yarns give maximum undistorted vision.
And if you want to maximize heat reduction, we have an enhanced version of the Linen Look shades with a dulled aluminum finish on the exterior facing side to effectively reflect out the heat in any color. These are our Verosol High  Performance shades.
As for our textured line of shades – they offer:
A range of densities depending on your choice of fabric. Either 10%, 5% 7% and 3% openness.
Colors closest to white block 30% more heat than darker colors and allow for more natural light.
Darker colors give sharper outward visibility and more glare reduction.
They protect your furnishings and art from fading.
The material used in the construction of the shades is antibacterial and non-toxic, rejecting mold, bacteria and dry rot.
Extreme temperatures will not affect them.
Daytime Privacy
The first thing the typical person does when they awake in the morning is raise the shade to let the sunlight in. That's all fine and well, but in doing so you're subjecting your furnishings to harmful UV rays, glare, and temperature changes through the glass. Plus, there's no privacy. Indoor transparent solar shades give sun protection with daytime privacy, proving that function and style can coexist.
Energy Efficiency
A solar shade solution is an invaluable window treatment and an excellent source of energy control. They have a real impact on heating and cooling costs. We can help you choose the correct indoor solar shades for your needs.
Check out our fine selection of indoor shades. We have a vast assortment. For function and style, we suggest our Linen Look and Textured lines, and our Verosol high performance.  Let us help you stylishly take charge of your indoor environment.
Visit our website at northsolarscreen.com or call us at (866) 230–4700.