Protect Your Home From the Harmful Effects of the Sun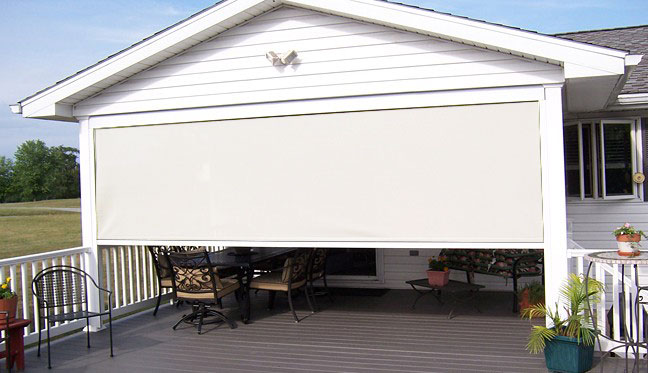 Global warming is a topic of hot discussion in today's world. No matter which side of the debate you're on, summer is upon us and with it, the need to live comfortably in the heat.
Given the current conditions, we'd like to share a little info on North Solar Screen's vast line of outdoor solar shades, because really, what's better than making your outside living spaces more livable? A little known fact is that outdoor solar shades actually stop more heat than indoor ones. Why? Because light causes heat, so, by filtering out the light before it has a chance to enter, the interior stays cooler. The idea? With outdoor solar shades you can grill but not roast on your pergola, patio, porch or deck. Here are a few more perks about outdoor solar shades. They are a transparent mesh shade so you get daytime privacy with ventilation. They are available in different densities so you can control the amount of glare reduction and UV protection to stop fading of interior furnishings. Oh and one more thing, North Solar Screen's outdoor solar shades have a layer of biocide in them to inhibit the mold and mildew.
Just want to blot out the blinding sun? Need both day and night time privacy to stop nosey neighbors' eyes? North Solar Screen has a full line of high performance total light blocking shade fabrics can withstand temperature ranges from minus 86° F to 158° F.
How about if you want total vision out but just need protection from the wind and rain or the cold air? North Solar Screen also has a full line of heavy gauge clear vinyl shades that provide a transparent barrier against the elements. They allow the warmth of the sun to fully penetrate. Just add a safe heater and stay toasty and dry.
At North Solar Screen, we custom manufacture our outdoor shades to your exact specifications from 3 feet wide to 20 feet wide, and up to 16 feet tall, if you need it. They can be manually operated or motorized.
Always consider the wind. Our shades can be made in various constructions to withstand breezes of 10-15 mph, winds up to 35 mph and even more up to a whopping 50 mph!
North Solar Screen has one of the largest selections of custom manufactured outdoor shades on the market. If you need it, we pretty much have it.
We've mentioned the quality of our products before, but it's worth mentioning again. Our shades exceed industry standards in their construction to ensure longer life and ease of operation. Our premium quality shade materials are matched with superior mechanical components to give you a shade built to last. All shades have a 5 year warranty. So, when it comes to ruling the sun, and the elements, we're the premier provider of outdoor shade solutions that will indeed make living in your open-air living spaces a reality.
We do not take orders online. This isn't because we're trying to inconvenience you. It's simply to guide you every step of the way and to take the worry out of ordering the correct shade and dimensions. Feel free to contact us if you have any questions.
At North Solar Screen we are the energy saving shade specialists. If you're looking for ideas on how to make your indoor spaces more livable, we have years of experience in helping people find solutions. We want to help you rule the sun whether outdoor, or indoor. Rely on our team of experts.
Give us a call!
Toll Free: 866.230.4700