Find A Pro: Measure & Install Services
Find an Installation Professional in Your Area
Prefer to have a pre-screened and insured local professional measure and install your shades? We can help get you covered.
IMPORTANT: Installers and NBI contractors are not employees or agents of North Solar Screen, LLC. We provide this as a courtesy service only. Any work provided by the professional is on a contract basis between you and the installer. Measurements and installations must be in accordance with the instructions provided by North Solar Screen, LLC in order to stay within our warranty.
Simply type in your zip code and you will be matched with a local professional from the National Blind Installation, Inc. (NBI) network of qualified technicians. The introduction is free, you just pay the installer for any work they do.
Please Enter Your Zip Code Below
For outdoor crank and motorized shades, please have your installer contact us beforehand so we can discuss measuring and installation.
Quotes for measuring and installation do not include the price for shades and motors
This service covers indoor roller shades, cellular shades and insulating blinds. If you require an installer for our outdoor shades please contact us.
Before the professional arrives to install, we recommend that you make arrangements after you have received all of your products and have inspected your order for accuracy. Upon receipt of your order, check the contents to make sure they are free of any shipping damage or workmanship problems and that they include all the necessary installation hardware and parts that you ordered.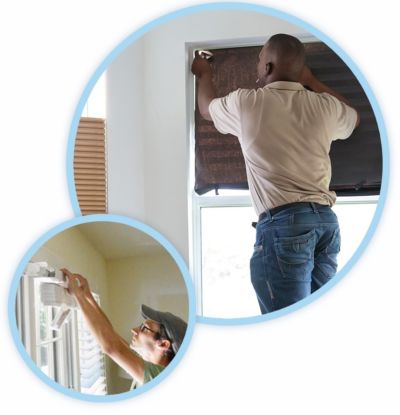 Measuring
Professional measuring eliminates concerns over product fit.
  Installation
Professional installation saves you the time and effort of installing blinds.
  Workmanship Guarantee
NBI Contractors guarantee their workmanship when they measure for the shades prior to installation providing they also install the shades. Incorrectly measured blinds that do not fit are replaced or repaired free of charge. Installers average 24 years in the business. Installation workmanship is guaranteed for 12 months.
Click to Read Installation Reviews
Exterior projects: We do not have recommended installers for exterior shades, but if you send us photos we can walk you through the best way to install on your structure, and tell you exactly how to measure for a perfect fit. Most of our customers install themselves, using our installation videos and pdfs, or hire a local general contractor or handyman. We are happy to assist whoever is doing the job with advice and guidance if necessary. Please call 866 230 4700 for assistance.
Woman owned and operated. Designing Energy Saving Shades since 1992