Why Skylight Shades Are Essential For Your Home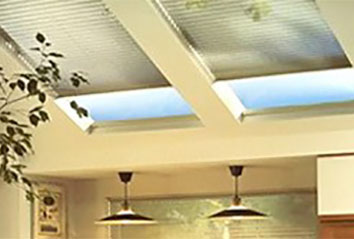 Ah, the restorative powers of a bright, sunny sky. The very reason we love our skylights, right? They make the room brighter and give it a more open feeling. But, then there's that downside. The room gets considerably hotter in the summer, colder in the winter, and furnishings begin to fade. And if the skylights happen to be where you want to take a nap, well, they just plain interfere.
We, at North Solar Screen, offer a variety of custom manufactured skylight shades to help alleviate these problems. Our skylight shades insulate, provide thermal comfort, and actually lower energy bills. They also reduce fading. Whether transparent, light filtering, room darkening, manually operated, or motorized, our treatments work year round to make you more comfortable.
For those who want an easy installation, we offer E-Z Install Skylight shades. They are fixed solar shade or light blocking panels that fit inside the skylight well, using hidden spring tension rods at each end to secure them. No tools are required.
If you prefer something retractable, our Double Honeycomb (Cellular) Insulated Skylight shades glide in tracks to stay in place. They provide thermal and draft protection. By acting as a thermal barrier, the double honeycomb air pockets trap cool air reducing unwanted heat gain in the summer, while retaining the heat during the winter. Manually operated, they open and close using a pole. They come in either light filtering or light blocking fabrics in array of different colors.
We also offer this version as a motorized skylight shade. It can be powered either by a battery wand, DC power supply, or a solar recharger. The motors are radio frequency controlled so that you can operate the shade with the touch of a button.
Lastly, if you have a big skylight up to 12 feet long, our Premium Insulated Honeycomb (Cellular) shades are gear operated with sidetracks for reliability and ease of use. These come in light filtering fabrics only.
Get your skylights under control so that they contribute to the ambiance, comfort and energy efficiency of your home. We wish you pleasant dreams if you need to take that power nap.
Feel free to contact us with any questions or call us at (866) 230–4700.